Commentary: Reflections on Literacy, Education and a Twenty-Year Inquiry Process
Keywords:
interview, inquiry, open-ended, longitudinal, teaching literacy, preservice teachers, reading
Abstract
In this interview Sandra Hollingsworth describes a unique experience in open-ended inquiry that lasted over 20 years.As a new professor at Berkeley she began with a study of her teaching literacy to preservice teachers from a traditional anthropologic perspective. When the study showed that her students had learned "nothing," she invited an informal group of them to share their experiences as beginning teachers learning to teach reading.The group transformed with time and became recurring occasions for all to reflect and learn about topics like social justice in urban schools, multiple literacies, race and other teaching issues. She describes some of the challenges the group encountered when trying to publish its findings and some of the key things she learned from participating in this inquiry—such as the importance of longitudinal inquiry.Finally,she introduces fellow members of the group and describes their current professional endeavours.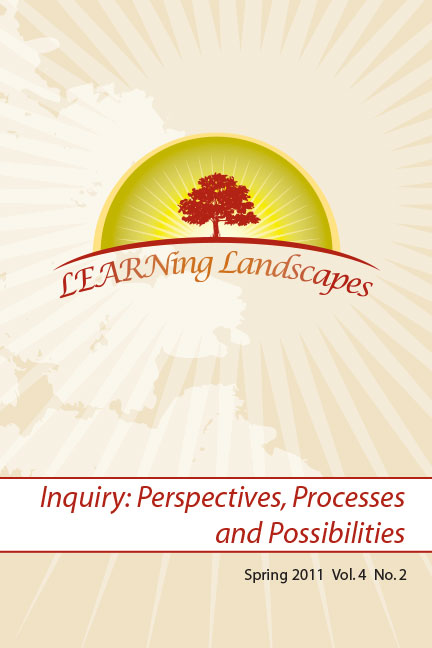 How to Cite
Hollingsworth, S. (2011). Commentary: Reflections on Literacy, Education and a Twenty-Year Inquiry Process. LEARNing Landscapes, 4(2), 47-54. https://doi.org/10.36510/learnland.v4i2.385